Mid-America
Alternative Fuel
Codes Summit
Tuesday, Oct. 28
8 a.m.–6 p.m.
and
Wednesday, Oct. 29
8 a.m.–4 p.m.

View the agenda and a current list of speakers
Kansas City Marriott Country Club Plaza Hotel
4445 Main St.
Kansas City, MO 64111
Lodging costs are covered for eligible government and nonprofit employees.
Registration fees:
$75 - government and 501(c)(3) nonprofit employees

$125 - standard

$25 - full-time student
CEUs available from the International Code Council, Metropolitan Kansas City Chapter, and the Missouri Fire Marshal's Office.
This program is ideal for:
Public Safety Managers
Municipal Codes Officials and Planners
Fire Marshals and Chiefs
Building and Fire Inspectors
Facility Designers
Energy and Engineering Professionals
State Fire Marshal Offices & Fire Schools
Fleet and Fueling Facility Managers
Students in relevant fields

New Summit Dates! October 28 and 29, 2014
Change is moving American transportation. An alternative fuels revolution offers new opportunities for lower costs, higher profits and cleaner air. But as this transition accelerates, businesses and governments alike will need to understand the regulations, safety codes and market outlook for these exciting technologies.
That's why you'll want to join us on Oct. 28 and 29 at the Marriott Country Club Plaza in Kansas City, Missouri. Our program features presentations from experts on fleet management, electric vehicle infrastructure, biofuels, propane and natural gas. Attendees will also enjoy interactive discussions on challenges and success stories with fleet owners, codes officials and engineers from four states. The sessions offer gaseous fuels safety training for first responders, and building codes training for alternative fueling systems. In two days, topics we'll cover include:
Trends in the alternative fuel regulatory environment and alternative fuels markets.
How to interpret and implement the codes in your jurisdiction.
Best practices sessions with professionals in all alternative fuels.
Visits to public and private alternative fuel stations.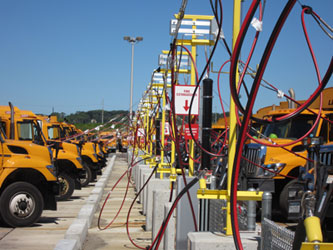 We reserved a block of rooms at the conference hotel, the Marriott Country Club Plaza. Lodging costs for eligible government or nonprofit employees will be covered by funding from the Mid-America Collaborative for Alternative Fuels, supported by DOE Award EE0006009. Room availability is limited. Be sure to check the appropriate registration box if you are a government or nonprofit employee AND need a sleeping room.
The cutoff date for room reservations is Wednesday, Oct. 8.
If you will be paying for a room on your own, please indicate that on the registration form. Rooms are priced at $106 per night. We will provide a list to the hotel of everyone who needs a room, including those who are paying on their own. All you'll need to do is present your credit card when you check in. You should not call the hotel for a reservation – we will do the work for you!
Free parking is available to all conference participants.
If you have questions or concerns, please contact David Albrecht at 816-531-7283 or david@metroenergy.org.
The Mid-America Alternative Fuel Codes Summit is presented by Metropolitan Energy Center and the Mid-America Collaborative for Alternative Fuels, with assistance from the Mid-America Regional Council's Academy for Sustainable Communities.