9th Annual Greater Kansas City
Workforce and Education Summit
Pathways to Inclusive Regional Prosperity
Wednesday, Dec. 4, 2019
8 a.m. to 1:30 p.m.
Kauffman Foundation Conference Center

This year, the Summit will focus on advancing education and workforce development strategies to achieve inclusive regional prosperity. Inclusive growth communities — through philanthropy, public policy, financial resources and community commitments — invest in strategies that ensure more people share in the growth and prosperity of the region.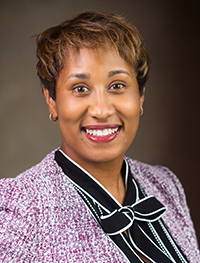 Keynote speaker
Tawanna Black
Founder & Chief Executive Officer
Center for Economic Inclusion
Tawanna Black is a nationally recognized thought-leader who is well known for influencing, inspiring and equipping cross-sector leaders to transform a personal conviction for equality into actions that produce equitable and thriving communities.
Who should attend?
Representatives from colleges, universities and school districts, K-12 intermediaries, businesses, local governments, civic organizations and others interested in the connections between workforce, education and the regional economy.
Registration fee: $35 includes breakfast and lunch
---
Sponsors


---