The Urban Neighborhood Initiative Green Space and Urban Farms Action Group invites you to attend the Vacant to Vibrant: Regional Vacant Lot Summit on Saturday, Dec. 7, 2019. The summit convenes individuals and organizations across the region who are using an array of green infrastructure techniques to spur social, environmental and economic prosperity for residents in the Greater Kansas City Region.
Keynote Presenter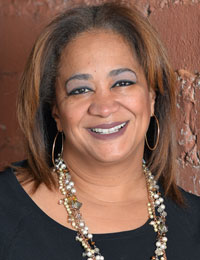 Anika Goss is the executive director of Detroit Future City (DFC). Goss leads a team of experts to implement the DFC Strategic Framework, a comprehensive 50-year guide to decision making and investment in Detroit.  She is a leading force and visionary in Detroit's revitalization, playing a crucial role as an advocate for an equitable and sustainable future for the city.
Goss has repositioned the organization to be laser-focused on the equitable implementation of its community and economic development, and land use and sustainability priorities. She also has helped bolster the future of Detroit's land use and sustainability through awarding over $330,000 in grants aimed at accelerating vacant land revitalization in Detroit and developing a dynamic community educational network of nearly 50 neighborhood leaders and nonprofits to develop standardized green stormwater infrastructure practices. detroitfuturecity.com
                                          
Other presentations include:
Vacant Lot Mapping Tool, Heartland Conservation Alliance
Expectations, Realities and Goals of Working with Native Plants, William Gibson, Down to Earth Services and Green Thumb Gardens
Transforming Desperation to Abundant Harvest, Nadine Farris, Paseo West Community Garden volunteer, and Amanda Lindahl, Giving Grove

Vacant to Vibrant:
Regional Vacant Lot Summit
Saturday, Dec. 7, 2019
Registration: 9:30 a.m.
Event: 10 a.m. to 2:30 p.m.
Lunch will be served.
Anita B. Gorman
Conservation Discovery Center
4750 Troost
Kansas City, Missouri
Attendees will receive a free copy of Vacant to Vibrant - A Guide to Working with Lots. This guide offers detailed way, including design templates, to spark ideas for vacant lot projects and point you toward the resources you need to accomplish your goals.

REGISTER NOW
Registration is free, but space is limited, so please register.
For more information, contact Alecia Kates at 816-701-8233 or akates@marc.org.
This project has been funded wholly or in part by the United States Environmental Protection Agency under assistance agreement (CD97763101) to (Mid America Regional Council (MARC).  The contents of this document have not been subjected to EPA's publications review process and do not necessarily reflect the views and policies of the Environmental Protection Agency, nor does the EPA endorse trade names or recommend the use of commercial products mentioned in this document.